West Coast Surrogacy Costs & Fees
At West Coast Surrogacy, we are transparent about surrogate mother costs and fees. We understand that gestational surrogacy represents a significant cost for many families. And that is why our team is dedicated to providing resources and options to ease your surrogacy journey, including flexible financing options.
The total cost of a surrogacy arrangement includes agency fees, surrogate compensation and expenses, fertility clinic fees and legal fees. However, there are factors to consider which can affect the surrogacy costs substantially. Contact West Coast Surrogacy to learn more about your financial options.
Contact Us About Our Surrogates Contact WCS
2019 Schedule of Surrogacy Fees & Costs
Gestational Surrogate Compensation
Surrogate mother pay varies based on first time or experienced surrogate fee and single versus multiple pregnancy
Base Pay for first time surrogate - California Surrogates (paid in monthly installments, after detection of fetal heartbeat)
$50,000.00
Base pay for first time surrogate - All other States (paid in monthly installments, after detection of fetal heartbeat
$40,000.00
Additional surrogate compensation for an experienced surrogate
$5,000.00
IVF Embryo Transfer Fee (upon completion of embryo transfer)
$1,000.00
Monthly miscellaneous allowance (once matched, surrogate is compensated $200 per month for misc. expenses for approximately 12 months)
$2,400.00
Multiples Fee – Twin pregnancy
$5,000.00
Multiples Fee – Triplet pregnancy
$10,000.00
---
Every member of the West Coast Surrogacy program staff is dedicated to supporting the surrogate as well as the intended parent(s) during this remarkable experience.
Mock Cycle during testing phase
$300.00
Cancelled Cycle
$300.00
Invasive procedure: Amniocentesis, CVS, Cerclage, D&C, Fetal Reduction
$500.00
Termination of Pregnancy
$1,500.00
Loss of Tube and/or ovary
$1,500.00
Ectopic pregnancy
$1,000.00
Cesarean Section
$3,000.00
Hysterectomy (loss of uterus up to 6 months post partum)
$5,000.00
Surrogate's compensation for lost wages if surrogate is employed in the event of physician ordered rest
costs will vary
---
Screening Costs
Psychological Screening – surrogate, spouse, and intended parents
$1,000.00
Criminal Background Investigation – surrogate and spouse
$126.00 - $402.00
Criminal Background Investigation – intended parents
$126.00 - $402.00
Medical Screening of Surrogate and Spouse
as determined by IVF physician
---
Legal Fees
Drafting of Gestational Surrogacy Contract for Intended Parents
$2,000 - 2,750.00
Review Gestational Surrogacy Contract on behalf of Surrogate
$1,000.00
Establish Parentage
$4,000.00 - 7,000.00
Trust Account Management
$1,000.00 - 1,500.00
---
Psychological Support
Monthly surrogate support group meeting in addition to 90 minutes of phone/email support each month for Surrogate and Intended Parents, phone support pre & post embryo transfer, post pregnancy test, and post partum
$2,500.00
---
Other Costs Paid by Intended Parents
Insurance verification of private health insurance policy (as needed)
$200.00 - $350.00
Term Life Insurance Policy of $250,000 for surrogate (approximate cost)
$500.00
Surrogate's health insurance (approximate cost if using her own insurance)
$10,000.00 - $15,000.00
Hotel and travel arrangements for surrogate during embryo transfer and physician mandated bed rest (approximate costs may vary)
$1,500.00
Surrogate's compensation for lost wages if surrogate is employed in the event of physician ordered rest
costs will vary
Medications for surrogate during IVF process and pregnancy
costs will vary
Professional Fees to your IVF physician for embryo transfer cycle
costs will vary
Monitoring for surrogate if she lives outside the area of your IVF physician
costs will vary
SURROGACY COSTS AND FEES ARE SUBJECT TO CHANGE WITHOUT NOTICE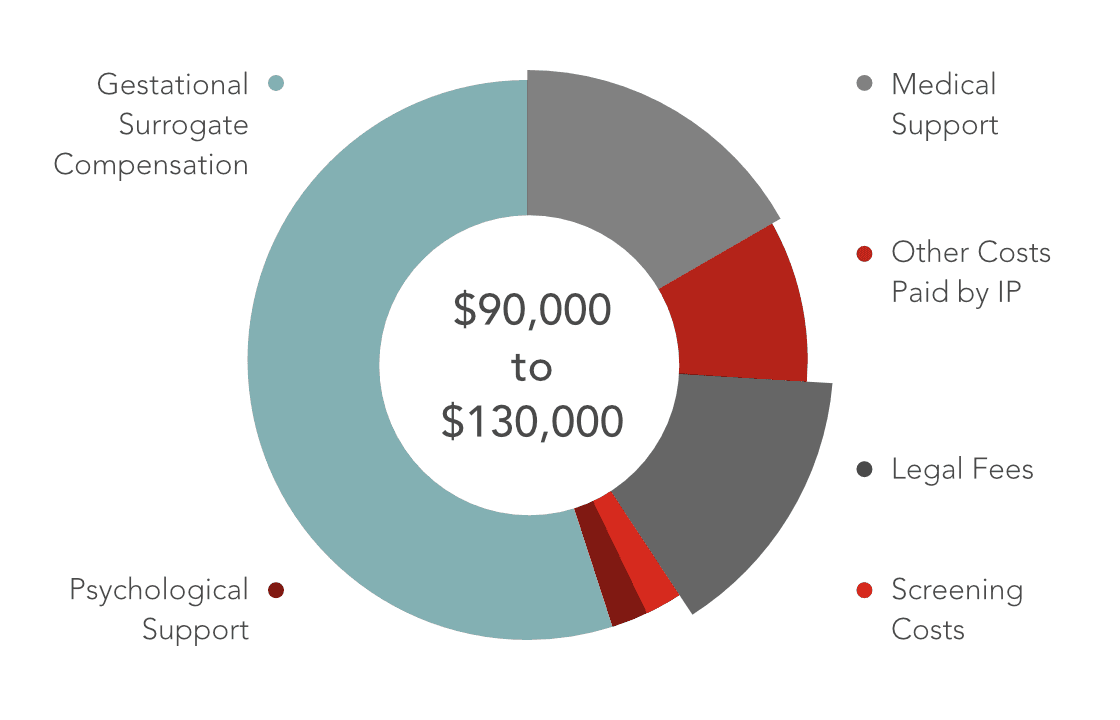 Surrogacy Financing & Payment Options
West Coast Surrogacy is proud of our reputation of making your surrogacy journey as simple and stress free as possible. We always strive to find new ways to help ease any part of the surrogacy process, including the ability to offer our intended parents opportunities to finance their cycles in order to reduce financial stress and provide an affordable surrogacy program.
Though our partnerships with Prosper Healthcare Lending and New Life Fertility Finance intended parents are able to seek fertility financing for their surrogacy agreement. Both Prosper Healthcare Lending and New Life Fertility Finance work exclusively with specialty lending, such as those for fertility centers and third party reproduction agencies (surrogacy and egg donation) and their intended parents. Their specialized services allow for custom tailored loans that meet the unique needs of future parents while facilitating an easy, convenient, and competitive loan process.
Some of the benefits you'll receive with a loan from Prosper Healthcare Lending or New Life Fertility Finance include:
Loans up to $100,000
Immediate decisions for loans under $35,000
Term options out to 84 months (affordable monthly payments)
No transaction fees
No pre-payment penalties
A fast and easy application process
---
How much does surrogacy cost from state to state?
Every surrogacy case is unique and involves factors that can impact the overall fees and price. The average cost of surrogacy can range from $90,000 to $130,000 depending on the individual arrangements. In states like California, where surrogates are in high demand, the cost may be slightly higher. Legal requirements and the costs of other services can also vary from state to state. However, the cost of surrogacy doesn't vary greatly between major metropolitan cities such as Los Angeles, San Francisco, Chicago and Houston.